VIPCA Vessel members receive 15% off any documentation services & free vendor/vessel advertising.
( Content Courtesy VIPCA )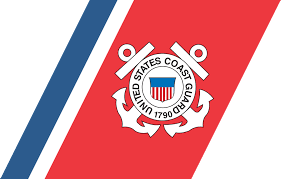 Uninspected Passenger Vessels or Becoming an Inspected Vessel
Is your vessel a U.S. Flagged or foreign flagged UPV legally operating with the correct number of passengers with the correct documentation?
The below steps are the minimum standards of compliance.
Step One

U.S. Flagged vessels operating only in the U.S. Virgin Islands can operate with a "SIX PACK" (up to 6 passengers). The following must be current as a minimum requirement:
Do hassle free registration with us !
Step Two

To operate in British Virgin Islands Waters with any paid passengers 1 to 12 passengers (USVI 6-12 passengers including crew) on any flagged vessel including US and BVI you will need to receive a Commercial Passenger License with the BVI government or a COI with the USCG. This is manatory for any vessels hired for carrying guests crewed or bareboat in the British Virgin Islands!

ANY vessels carrying over 6 passengers in the USVI must have a Commercial Vessel License. Please contact us for the steps.

Avoid Fines, business disruption, jail and or loss of your vessel.
Do hassle free registration with us !
Step Three

If your vessel is Foreign flagged and your crew are not US citizens, you may legally charter in US Virgin Islands IF your crew carry valid B1/B2 visa or C-1/D visas. The Captain must hold a valid license (equivalent to USCG Master 100) issued from a source appropriate to his/her nationality.

Any time you have paying guests onboard however, you can only pick up and drop off your guests in the USVI and must head immediately out of the US Virgin Islands once you have them picked up.
Please note that bareboat charters without a hired captain must only have valid visas or follow USA immigration laws.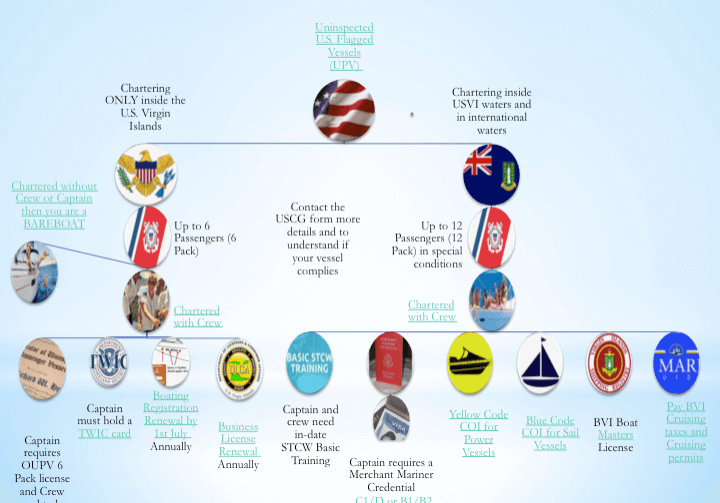 Next Steps ...

Prior to leaving and re-entering the U.S. Virgin Islands an electronic notice of arrival and departure must be filed by the Captain or appointed designee. At www.nvmc.uscg.gov create an account and a template for filing submissions.
Any changes in departure/arrival time (within a six hour window) or changes in crew or passengers must be reported prior to departure/arrival.
Moorings in the BVI marine park can be purchased at the time of check in at Immigration and Customs. For BVI Clearance Procedures
Edward Wilmoth Blyden Marine Terminal, St. Thomas 877.305.8774 | 8 am-5 pm Seven Days a Week
Cruz Bay CBP Terminal, St. John 877.305.8775 | 7 am-6 pm Seven Days a Week
Gallows Bay, St. Croix 340.773.1011 | 8 am-5 pm Monday-Friday | After Hours: 340.773.1490